17 Oct 2023
5 min read
By the REIQ
Brisbane office market update
Rising rents, increasing office take up and a slight softening of yields have been a feature of the Brisbane CBD office market in recent months.
Commentators observed that Brisbane recorded 71,000 sqm increase in office absorption by tenants in the 12 months to July 2023 while rents have risen by as much as 13.7 per cent year on year.
Brisbane office take up outperforms all other capital cities
Ray White Commercial Head of Commercial Research Vanessa Rader says this means Brisbane topped the list of Australian CBDs in terms of office occupancy "after a number of difficult years for the CBD".
"Further adding to the Queensland story has been the reduction in "For Lease" signs across the Brisbane fringe, taking up 45,573sqm, and Gold Coast 12,132sqm," Rader says.
"While Brisbane CBD has been one of the only markets to see vacancy declines, it has enjoyed a combination of both strong take up and limited net supply additions of close to 19,000sqm."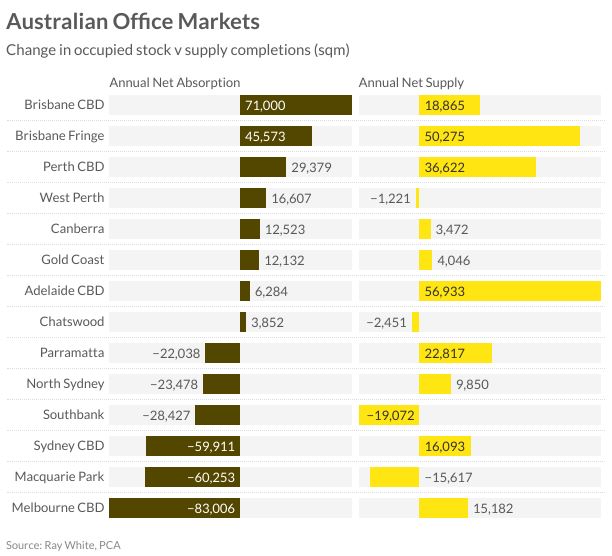 Ray White's observations were backed by Jones Lang LaSalle's Asia Pacific Office Market research, finding the Brisbane CBD office market recorded 22,800sqm of net absorption over Q2 2023.
"The key factor contributing to this was a government tenant relocating into the Midtown Centre from 1 William Street, with this vacant space being backfilled by other government tenants. Small tenants also supported this positive demand with vacancy decreasing to 12.6%," the report says.
"The Brisbane Near City office market recorded positive 20,700 sqm of net absorption over the quarter. The main driver was small tenant demand as well as a number of large tenants expanding within the market from the utilities and healthcare sectors. From this, the Near City vacancy rate decreased over the quarter to 14.8 per cent."
Office rents increasing
Cushman & Wakefield's Marketbeat report for Q3 2023 says the firm's agents have noted that a lack of supply has pushed an increase in gross face rents across all grades in 2023 in the Brisbane CBD.
"In Q3 Premium gross face rents were up 13.7% year on year (Y-o-Y) ranging from $985 to $1085 to average $1,035 per sqm per annum (sqm pa), A grade gross face rents are up 9.0% Y-o-Y ranging from $775 to $840 to average $805 sqm pa and B-grade was up 7.3% Y-o-Y, averaging $680/sqm pa with a range of $660 to $705 .
"Gross incentives have decreased slightly in Q3 with Premium between 37% and 40%, A-grade 39% to 45% and B-grade 42% to 46%, representing an average Q-o-Q decline of 100 basis points."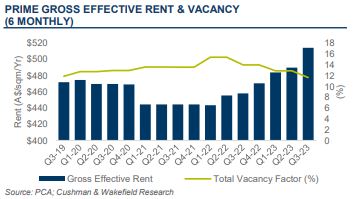 Cushman & Wakefield says that with outgoings stable, slightly reduced incentives have allowed for strong effective rental growth.
Future opportunities
All three reports note the supply coming into the Brisbane market in the next few years.
Ray White's Vanessa Rader says, "With more than 150,000sqm expected to be added to this market over the next few years, a prolonged high vacancy is anticipated."
Cushman & Wakefield says there are three major developments under construction with commitments by high quality tenants.
The firm notes the 45,000 sqm development at 205 North Quay is fully committed with delivery slated for Q4 2024. 360 Queen is expected to be completed in 2025 and demolition has been completed and siteworks are underway at Dexus's Waterfront Brisbane, with the north tower expected to reach practical completion in 2028.
Cushman & Wakefield expects demand to hold strong in the near term with continued positive net absorption.
JLL believes professional services and government tenants are expected to continue to remain active in the Brisbane office over the near term.
"Tenants are expected to continue showing solid interest in the higher-quality office stock in Brisbane driven by the benefits of improved amenities and the ability to attract and retain top talent."
Yield expectations
JLL says prime yields in the CBD softened by 13 basis points over Q2 to range between 5.25 per cent to 7.00 per cent with a midpoint of 6.13%. Near City yields softened a further 38 basis points to range between 6.00 per cent and 7.75 per cent with a midpoint of 6.88 per cent.
JLL is predicting a furthering softening of yields in the CBD and Near City in light of the uncertain macroeconomic environment but investors were showing favourable interest in office stock with solid sustainability credentials and covenants.
Read more: Brisbane industrial market update.
Or browse more property sales articles here.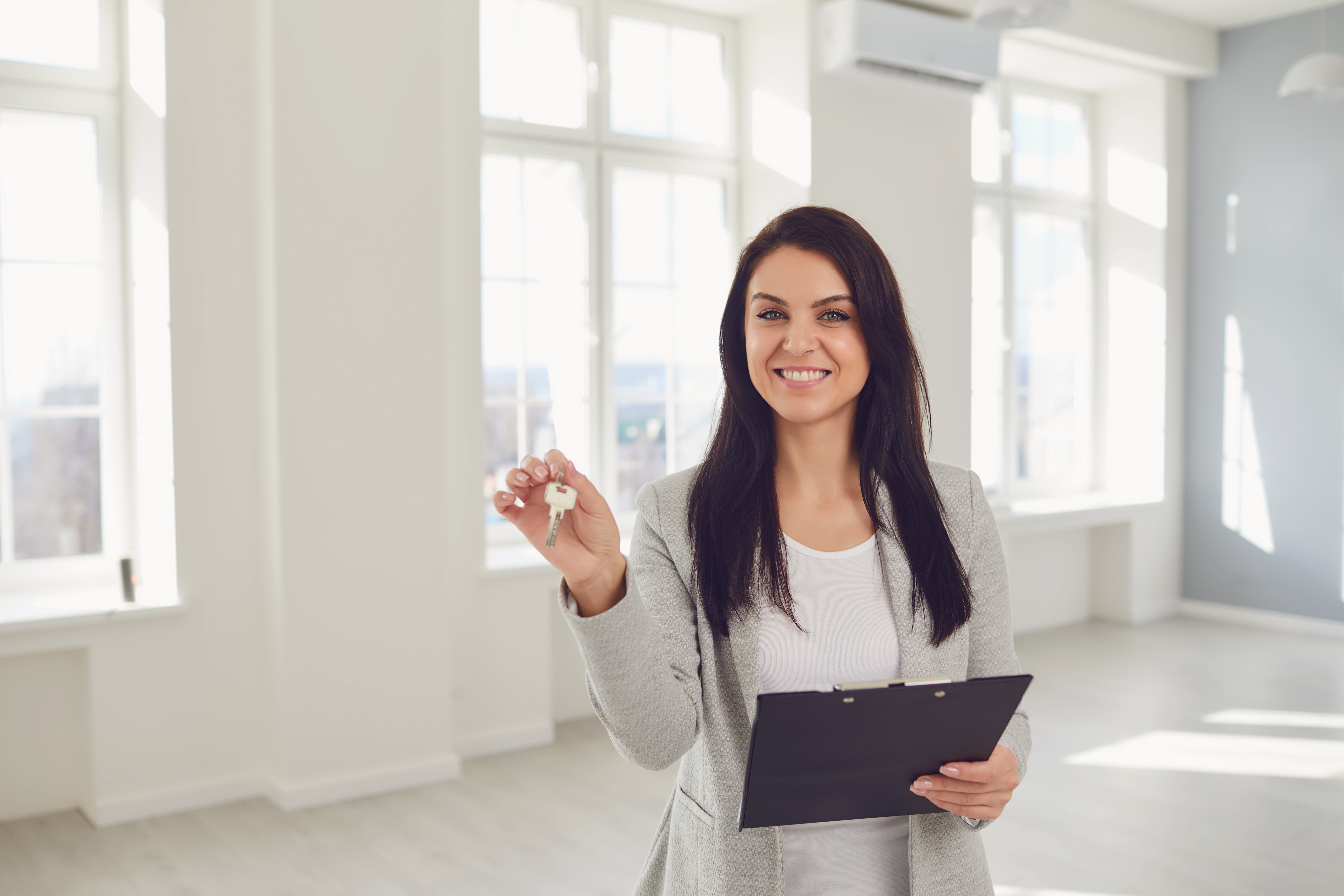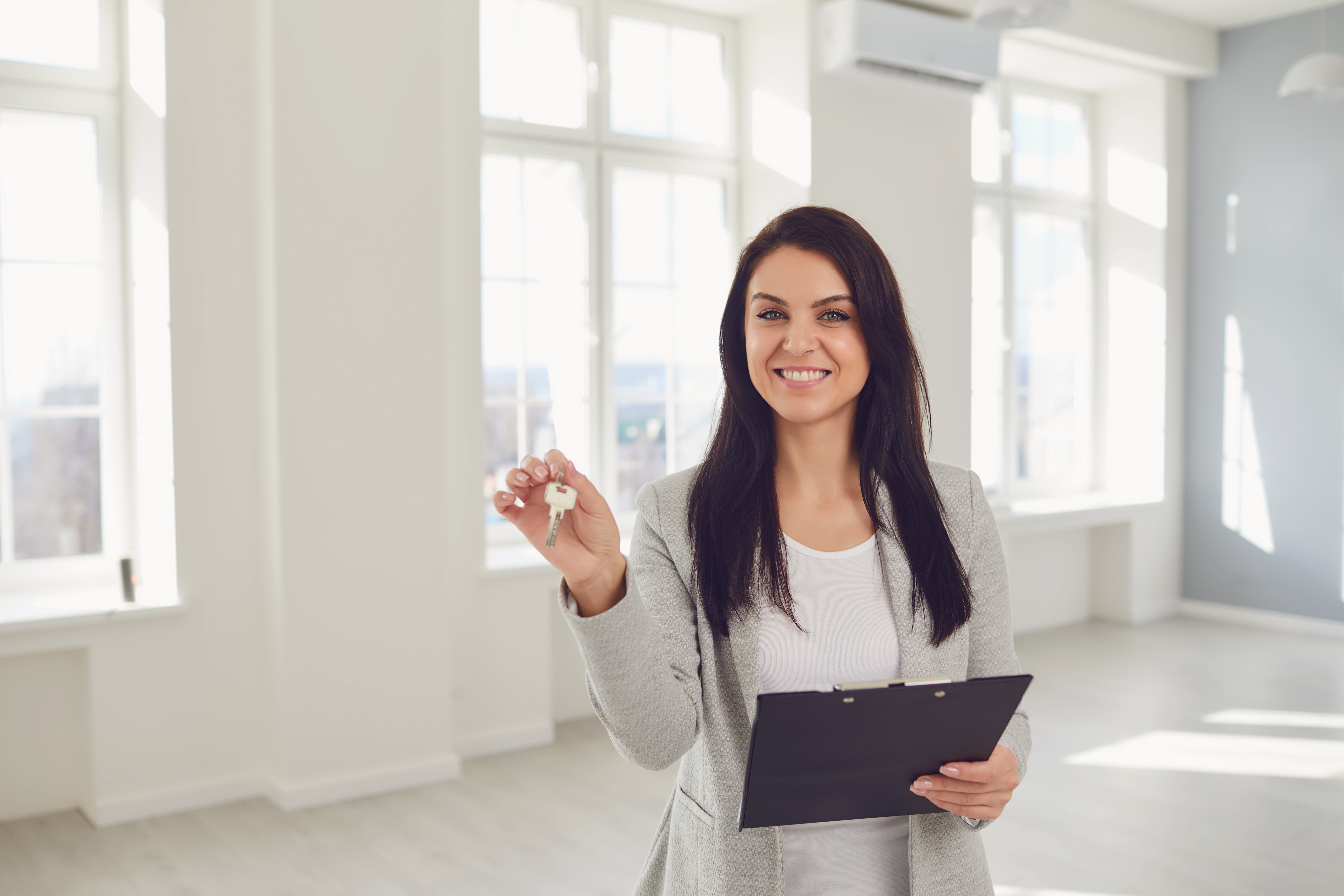 Start your Real Estate Career
Our approach to training is career focussed to support all members of the profession.
From accredited training to start your career to upskilling courses that advance your career, the REIQ keeps you a real step ahead.