07 Sep 2023
5 min read
By Claire Ryan
Queensland property continues to shine on
Queensland property keeps proving itself to be a shining performer, according to quarterly median sales results released by the Real Estate Institute of Queensland (REIQ) today.
The June 2023 quarter (April – June 2023) revealed that many of the Sunshine State's property markets remain in an enviable position, with statewide median house prices rising by 4.62 percent over the quarter, and median unit prices lifting 3 per cent.
Taking a broader view and comparing Queensland's annual figures, the state saw substantial year on year growth of 5.26 per cent for houses, and 6.91 per cent for units.
Some regional property markets are running particularly hot with double digit annual growth seen in Bundaberg (15.19% for houses, 15.45% for units), and Toowoomba (10.75% for houses, 12.5% for units).
Fraser Coast and Ipswich were also standout annual growth performers, with Fraser Coast houses up 10.71 per cent and units up 17.73 per cent, and Ipswich houses up 11.34 per centand units up 13.69 per cent.
Queensland's annual median house price reached $650,000, while capital city Brisbane's annual median sale price dipped back below the $1 million mark to $985,000.
Meanwhile Queensland's annual median unit price remained just under half a million dollars ($495,000), but reached a record $510,000 in Brisbane – still practically half the price of Brisbane's median house.
REIQ CEO Antonia Mercorella said contrary to commentary that property prices would go 'belly up', the data showed overall Queensland property is delivering sustainable growth.
"The dust has settled and we've returned to a much more stable sales market, with steady growth for owners and more time for buyers, and that's a great market to be in," she said.
"Interestingly, units are leading the way in annual growth in many of the state's major markets, particularly outpacing house growth in Greater Brisbane and the tourism centres.
"It's unsurprising that buyers are increasingly recognising the value and appeal of apartments, particularly those wanting to get out of the strained rental market and on to the property ladder.
"Over the past couple of years, the divide between house and unit prices in Brisbane has never been bigger, with units presenting a relative 'bargain' entry point and opportunity to live closer to the action."
Ms Mercorella said immigration to the southeast corner would continue to be a primary driver for property growth, particularly with the Olympics on the horizon.
"While these results are somewhat surprising given rising interest rates, Queensland's market is buoyed by population growth and a lack of listings hitting the market," she said.
"It's slim pickings for buyers hoping to secure a slice of the Sunshine State, and this creates competition and puts upward pressure on prices.
"But buyers have regained some time, with the typical time to sell a house expanding out to 29 days compared to a year ago, and for units its now 25 days, closer to a normal campaign period.
"The buyer mentality has now swung from FOMO (fear of missing out) to FOMM (fear of making a mistake), and accordingly we've seen the return of conditional contracts again."
HOUSE MARKET HIGHLIGHTS
The highest volume of house sales across the quarter were Brisbane (2,774), Gold Coast (1,780), and Moreton Bay (1,530), followed closely by Logan (1,177) and Sunshine Coast (1,056).
Over the past year however, statewide house listing volumes have dropped by 18.8 per cent, with almost every major market across Queensland showing a double digit decrease in stock.
Noosa retained its title for the most expensive housing market in Queensland with a median house price of $1.3m this quarter, followed by Brisbane ($1.02m), Gold Coast ($985k), and Sunshine Coast ($936K).
The strongest house market performers for quarterly growth were Brisbane (4.62%), Redland (4.58%), and Noosa (4%).
Meanwhile Cairns (-0.35%), Townsville (-0.07%), Sunshine Coast (0.15%), Moreton Bay (0.71%) and Toowoomba (0.95%) all remained relatively stable quarter on quarter.
Looking at annual growth, the top five double-digit house market performers were Bundaberg (15.19%), Ipswich (11.34%), Toowoomba (10.75%), Fraser Coast (10.71%), and Rockhampton (10.61%).
Logan (8.77%) and Cairns (8.65%) also recorded impressive annual growth.
While some house markets experienced a dip in annual growth including Noosa (-4.2%), Brisbane (-2.48%), and Sunshine Coast (-0.53%), it's worth noting that these markets also hold the title for the highest median annual sales prices, and experienced exponential growth post-COVID. Further, the latest quarterly data show positive signs of growth.
Almost all major markets saw a dramatic increase in the annual median days on market compared to the previous 12 months, with the longest sales campaigns seen in Noosa (57 days), Gladstone (42 days), Sunshine Coast (38 days) and Fraser Coast (35 days).
The fastest moving markets were Toowoomba (18 days), Bundaberg (19 days), Cairns and Ipswich (both 20 days).
UNIT MARKET HIGHLIGHTS
Far and away Brisbane (2,550) and the Gold Coast (1,532) held firm as the hottest unit markets based on number of quarterly sales, despite annual listing volumes having substantial drops.
Similar to the house market, unit listings were few and far in between with statewide unit listing volumes dropping 17.7 per cent over the year.
Again, Noosa was comfortably crowned the most expensive unit market in Queensland with a median unit price of $1,052,500 this quarter, leaving runner ups, Gold Coast ($645K), and the broader Sunshine Coast ($615K) in its wake.
In fourth place, Brisbane's quarterly median unit price reached $528K which is just over half of Noosa's. This shows just how strong and unique a part of the world Noosa is, to significantly overshadow the capital city.
Bundaberg stood out as the strongest unit market performer for quarterly growth at 15.45 per cent based on 58 sales. This was followed by Ipswich (8.48%), Noosa (7.39%), Gladstone (6.38%) and Fraser Coast (4.88%).
Unit markets which took a step backward this quarter, were Toowoomba (-9.21%), Mackay (-8.33%), Sunshine Coast (-3.91%), and Rockhampton (-3.69%), however these four markets are all tracking positively when looking year to year. Townsville's unit market took a small side step this quarter (-0.49%).
Annual growth in the unit market was strong in double-digits in Fraser Coast (17.73%), Bundaberg (15.45%), Logan (14.82%), Ipswich (13.69%), Toowoomba (12.5%), Cairns (11.11%), Redland (10.43%) and the Gold Coast (10.09%).
Throughout Greater Brisbane, which had an annual median unit price of $480,000, annual median days on market remained relatively steady, fluctuating only a few days up or down. In Queensland's tourism centres however, some sales campaigns doubled in length.
The longest lengths of time to contract were seen in regional Queensland with Gladstone (62 days), Mackay (54 days), Townsville (49 days), and Rockhampton (45 days). Regional buyers needed to much quicker in Bundaberg (20 days) and Toowoomba (21 days).
The fastest moving unit markets were Cairns and Redland (both 18 days), and Logan (19 days).
Notes to Editors:
Insights derived by the Real Estate Institute of Queensland based on CoreLogic Data.

A median sale price is derived by arranging a set of sale prices from lowest to highest and the selecting the middle value within this set (i.e. the 50th percentile, where half of recorded sales were less and half were higher than the median).

Only suburbs and regions to record sufficient sales numbers (at least 10 sales for the quarter) at the time of reporting are considered statistically significant.

Days on market is calculated as the median number of days it has taken to sell properties (from first advertised date to contract date) by private treaty during the last 12 months (excludes auction listings and listings where an asking price is not advertised).
Media enquiries:
Claire Ryan, Media and Stakeholder Relations Manager, The Real Estate Institute of Queensland
M: 0417 623 723 E: media@reiq.com.au
Houses data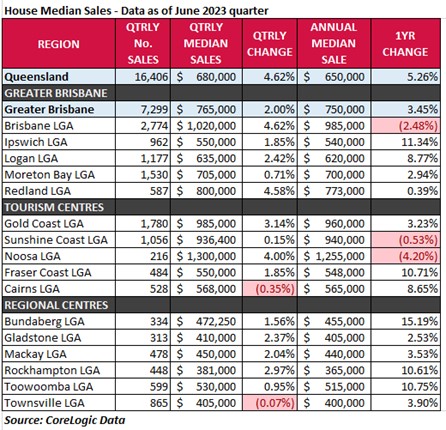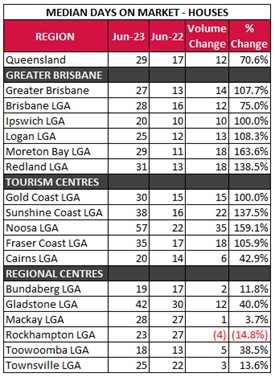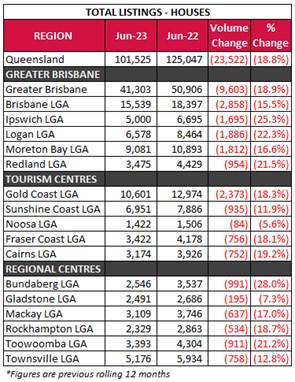 Units data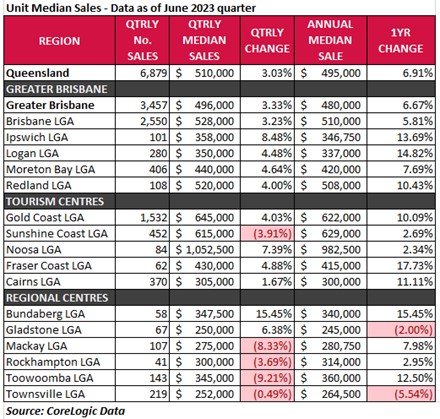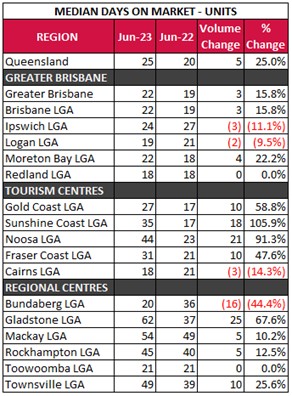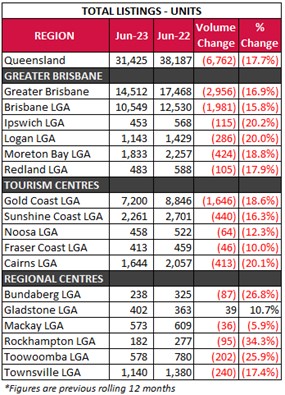 Read more media releases from the REIQ.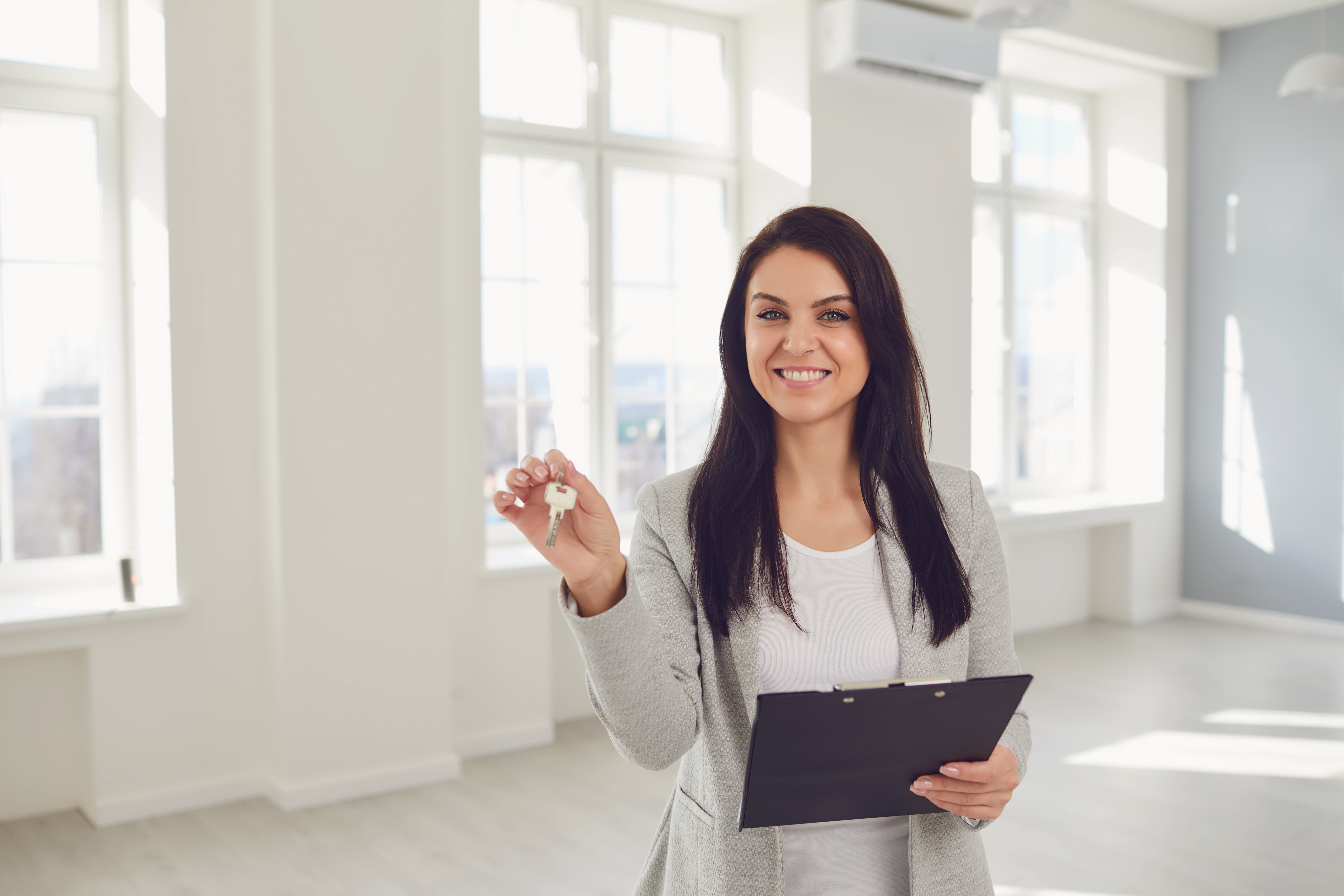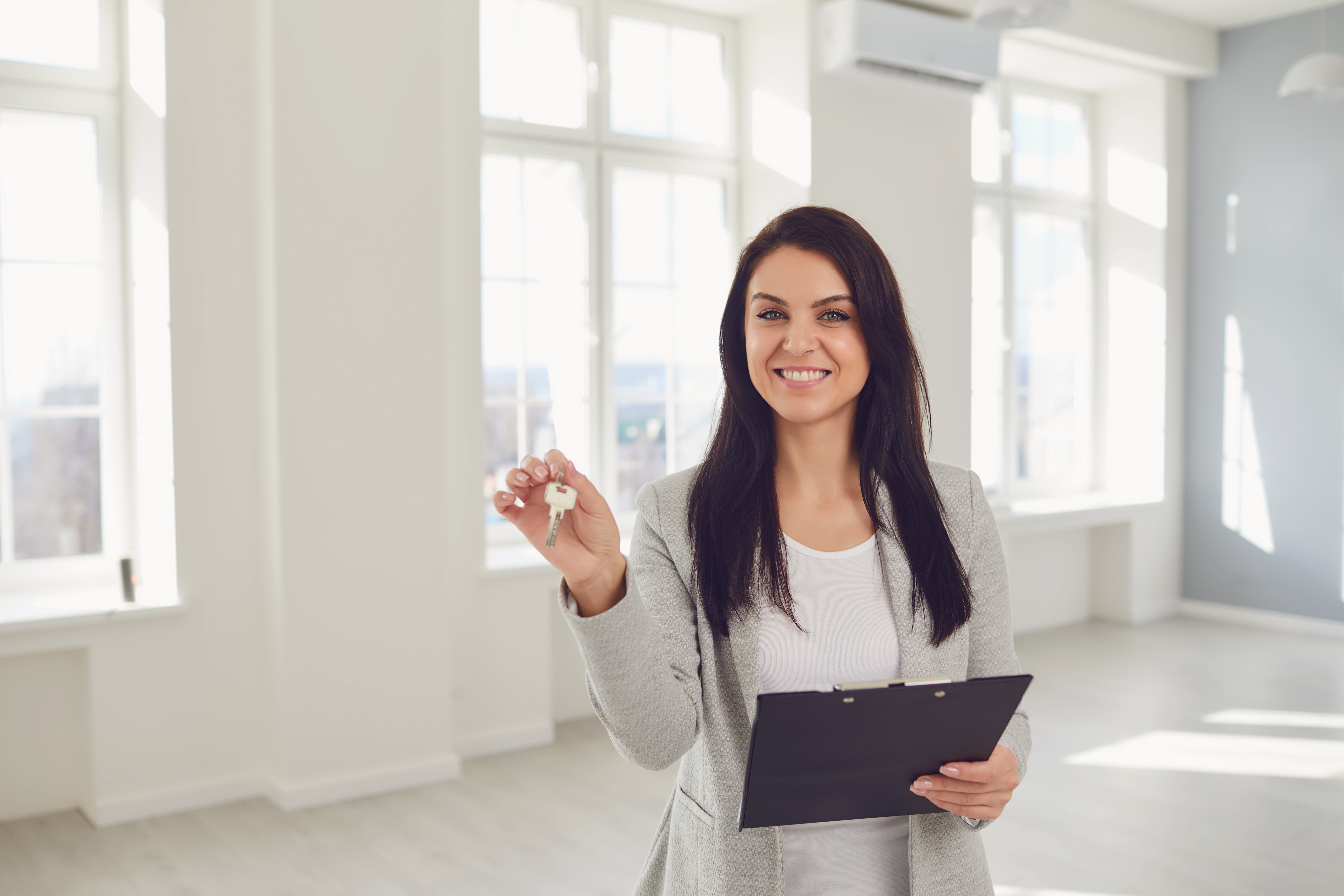 Start your Real Estate Career
Our approach to training is career focussed to support all members of the profession.
From accredited training to start your career to upskilling courses that advance your career, the REIQ keeps you a real step ahead.