15 Apr 2021
5 min read
By Aislinn Dwyer
Will Queensland's property prices win gold after the 2032 Olympics?
Although some 11 years away, the 2032 Olympic Games is on the lips of most Queenslanders - particularly among Brisbanites - whose home city has been declared host of the event.
However, it's not just the excitement of the world's largest multi-sport event that has tongues wagging.
Hosting the 2032 Olympics and Paralympics could be a "game-changer" for Queensland, according to Brisbane Lord Mayor Adrian Schrinner, who says it could "deliver 20 years of accelerated opportunity for our state".
So, what opportunities will arise from hosting the 2032 Olympic Games? And will these opportunities correlate to an increase in property prices in the Sunshine State?
We sat down with Simon Pressley, Head of Research at Propertyology to find out.
Case Studies of Olympics Past
There's no denying
the buzz of an Olympic Games ha
s positive ongoing effects for the host city.
The
Journal of Economic Perspectives
claims there's three major benefits of hosting the Olympic Games:
"Olympic legacy"
,
which might include improvements in infrastructure and increased trade, foreign investment
and tourism post-Games
; and
intangible benefits
like
civic pride
.
When it comes to the Olympics and property prices however, the benefits are less clear.
In the past, lesser-developed host cities like Barcelona saw a major rise in property prices - with the city recording a mammoth increase of 130% prior to the 1992 Barcelona Olympics. This is likely due to the fact the city underwent major rejuvenation, such as the implementation of a high-speed train which connected to the capital city of Madrid, and a regeneration of the city's waterfront.
For highly developed cities, it's harder to attribute property price growth to one singular event, according to Propertyology's Head of Research, Simon Presley.
London, which hosted the 2012 Olympics, experienced only a 38 per cent increase in median house prices over the five years ending 2013, which according to Pressley, is "hardly a boom" considering the $16 billion outlay to prepare the city for hosting the Games.
"Sydney hosted the 2000 Olympic Games and its median house price increased by 88 percent over the five years ending 2001," says Pressley. "But the reality is that the start of this century is etched in history as one of Australia's most prosperous eras. Property markets right across Australia benefitted from long-term political stability, major tax reform (GST implementation), the biggest ever government grants and incentives for property buyers, free-flowing credit, large scale privatisation, a global technology boom and unprecedented economic development."
When looking at other major sporting events held in Australia, such as the Melbourne and Gold Coast Commonwealth Games, it's interesting to note other cities across the nation produced stronger property markets than the host cities themselves.
[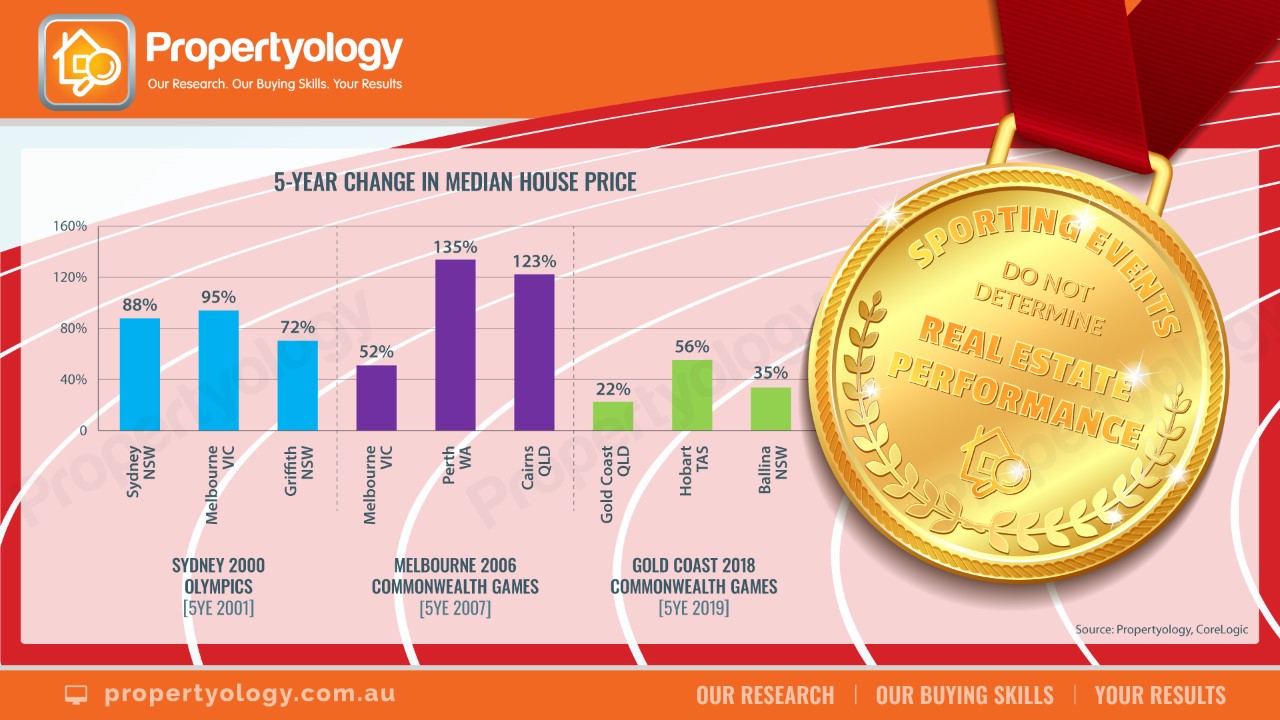 Source: Propertyology[/caption]
Will Brisbane 2032 Be Any Different?
It'
s important to note
the lead-up to the Brisbane event wi
ll be vastly different to previous Games
. For starters, the Olympics
won't be entirely hosted in the state's capital city. Sporting venues on the
Gold Coast and
Sunshine Coast will be
utilised - plus venues in Redland, Moreton Bay, Scenic Rim and Ipswich. P
reliminary football matches are planned for Cairns, Townsville, Toowoomba, Sydney and Melbourne.
Interestingly, the athletes village won't just be in Brisbane, with other villages set to be based on the Gold and Sunshine Coasts.
This spells good news for Queenslanders, as tourism, increased infrastructure and other benefits will be shared among the South-East Queensland corridor.
It's also worth noting the cost of hosting the Olympics will be much lower than the likes of the Sydney 2000 Olympics.
"Compared to past Olympic Games, the 2032 Olympic Games requires a significantly smaller investment to host it," adds Pressley. "The traditional seven years from announcement to event date has been extended to 11 years, thereby further diluting the investment."
"It has been reported that it will cost significantly less ($4.5 billion) to put on the 2032 Olympic Games in South-East Queensland. The Queensland Government has trumpeted that it already has the bulk of the infrastructure and facilities required from recently hosting the 2018 Commonwealth Games."

Where will Brisbane and Queensland See Value?
Whether property prices in Brisbane or Queensland will increase after the Olympics is yet to be determined.
What's more likely to happen is infrastructure upgrades to transport, services and amenities may have a positive flow-on effect to house prices.
The real winners from the Olympic Games will be both the jobseeker and tourism sectors.
The State Government's 2032 Olympic and Paralympic Taskforce found the Games could create around 130,000 direct jobs, including 10,000 in the year of the Games.
The Value Proposition Assessment created by the taskforce also revealed there is an estimated quantifiable economic benefit of $7.4 billion.
Whether a property market performs well or not post-Olympics relies heavily on many macro and micro factors. These include the broader national economy, credit and monetary policy (macro), as well as local housing supply, political stability and broader local economic conditions (micro).
"Generally speaking, the direct benefit to property markets from hosting such a big international event comes from the bringing forward of investment in big-ticket infrastructure," says Pressley. The global exposure and local enthusiasm created can linger for up to a year after the event. So, the property market benefits tend to span a total of five years."
However, Pressley advises homeowners and investors alike to not count on the Olympics for driving enormous house price growth, and to focus on the Olympics for what they are: a fantastic display of talent, sportsmanship and national pride.
"The best advice that I can give anyone who truly cares is to just enjoy the Games for what they are, and ignore the property market gum-flappers."
For a full list of proposed Olympic venues, click here.
To know more updates like this, click here.
To know more updates like this, click here.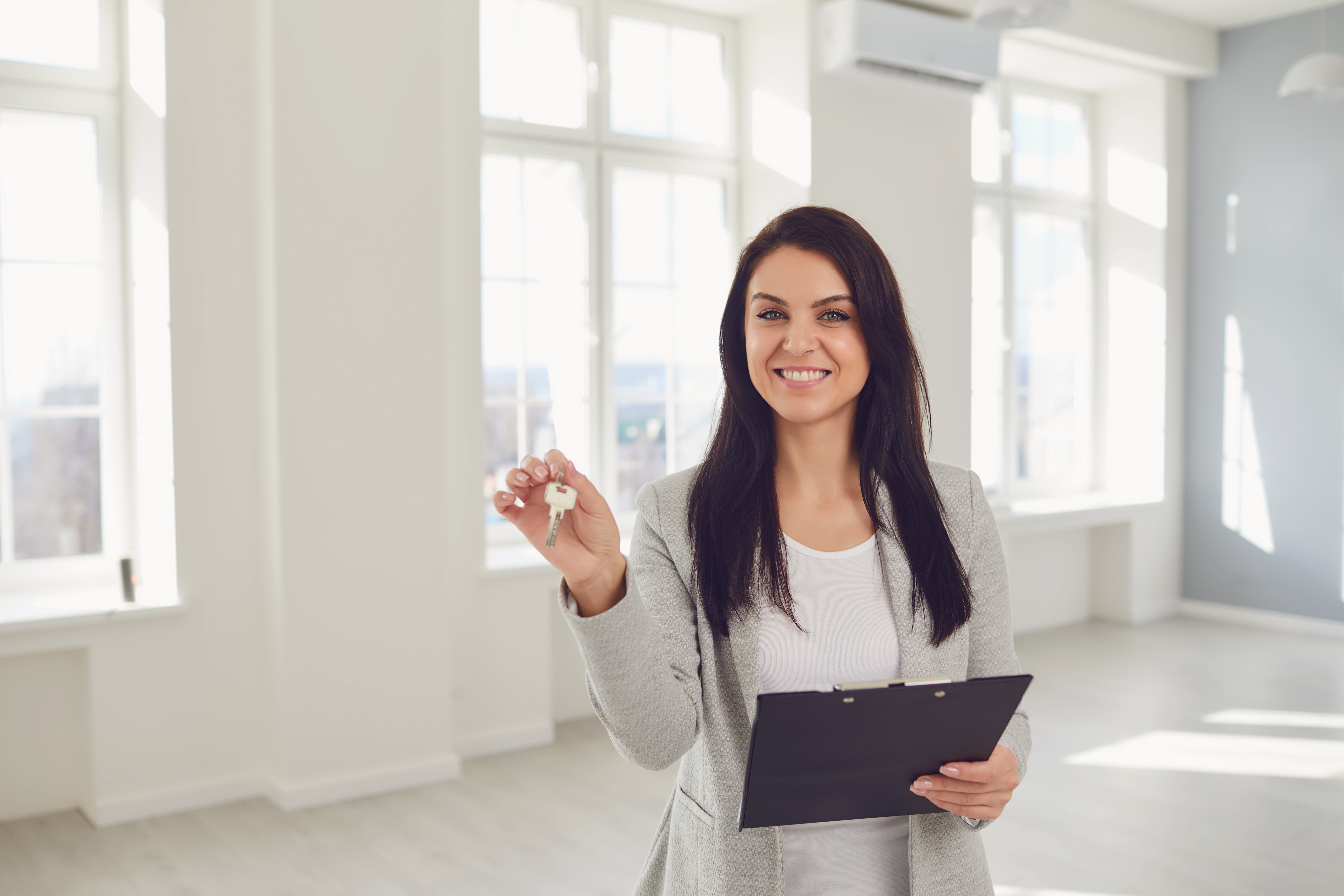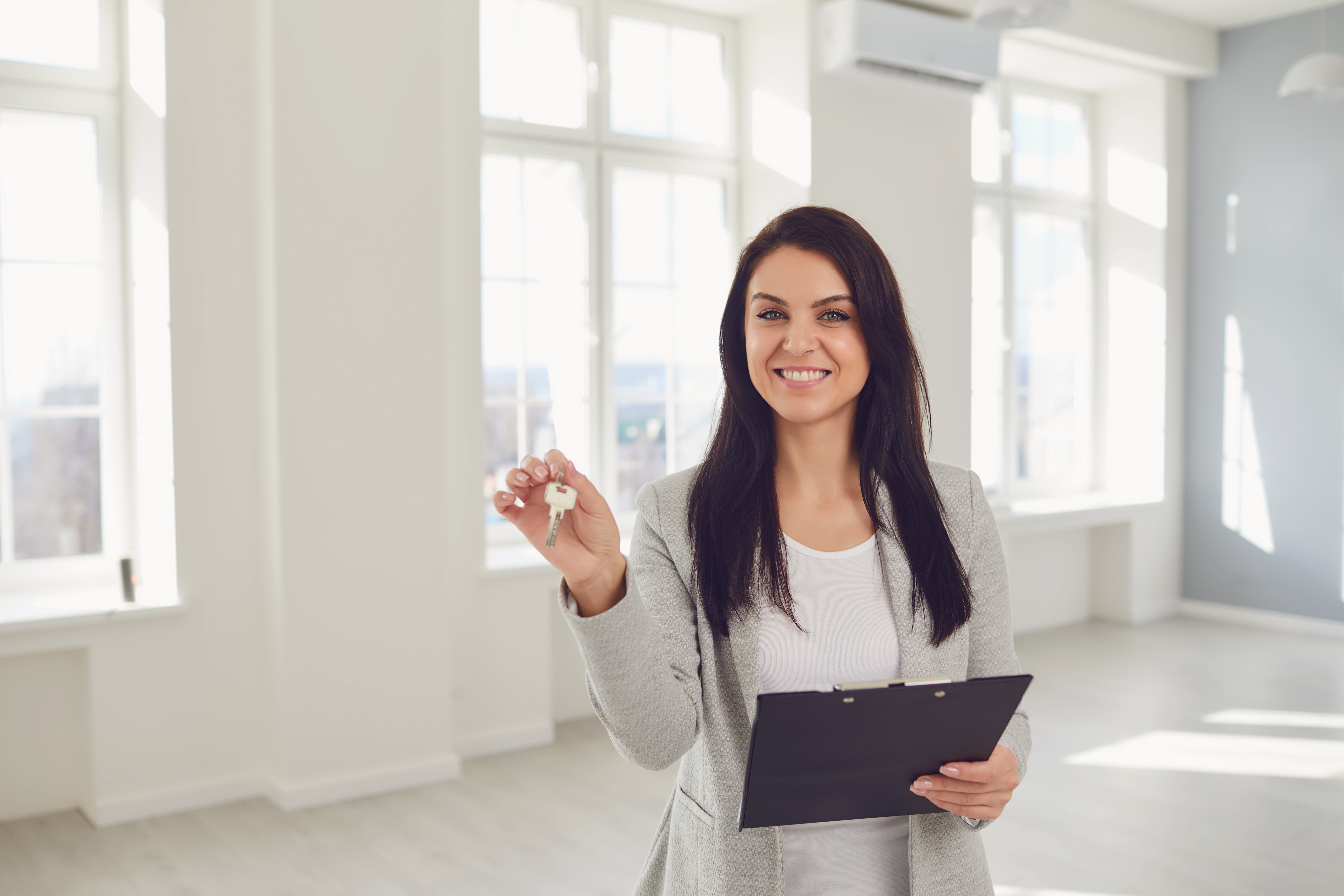 Start your Real Estate Career
Our approach to training is career focussed to support all members of the profession.
From accredited training to start your career to upskilling courses that advance your career, the REIQ keeps you a real step ahead.